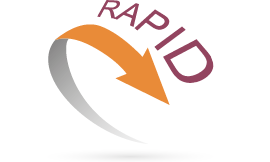 Synelixis in the RAPID Industrial Advisory Board
Synelixis has proudly joined the Industrial Advisory Board of the RAPID Project, accepting the invitation of Mr Iakovos Mavroidis, the Project Coordinator.
The RAPID project aims at delivering a hierarchical efficient heterogeneous CPU-GPU cloud computing infrastructure, supporting offloading and acceleration of intensive application tasks running on devices with limited available resources. Thus, RAPID enables heavy application delivery on smartphones, tablets, etc., empowered by CPU and GPU virtualization on remote private or public cloud resources, exploited by advanced, lightweight application offloading among hierarchical hardware classes. RAPID experiences a modular architecture and can be easily exploited by application developers, downloading the open source RAPID framework and applying the RAPID programming model.
The Industrial Advisory Board provides useful feedback and market insights, from the early project stages, in order to ensure that project developments are aligned to market needs and trends. Currently, the RAPID Industrial Advisory Board comprises owing members frmom ARM Ltd, UK, NVIDIA Ltd, France, Onapp Ltd, Gibraltar and Synelixis Ltd, Greece.